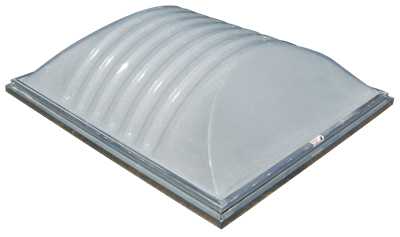 Signature Series Skylights
Captures more light during low-light times!
The Sunoptics SignatureTM Series is our highest-performing skylight. Through its patented design featuring prismatic optics, SignatureTM Series skylights capture more light at low-light levels than any other passive skylight on the market today. They provide glare-free, UV-damage-free, full-spectrum natural light. SignatureTM Series skylights are for use in open ceiling applications such as retail, warehouses, manufacturing, and areas with higher mounting heights. Optimize your energy savings by pairing the SignatureTM Series skylights with Acuity LED lighting and lighting controls to reduce your energy costs on lighting by 80-90%.
Certain airborne contaminants can diminish the integrity of acrylic. Refer to Acrylic Environmental Compatibility tables for suitable uses.
KEY FEATURES
The innovator and industry leader in High-Performance Prismatic Daylighting
Single, Double, and Triple Glazed versions are available
Provides the highest visible light transmission with the optimum (100%) diffusion of the light in the industry
Available in standard sizes from 2′ x 2′ to 5′ x 10′
Available in Impact Modified Acrylic Prismatic, HVHZ Approved Acrylic/Polycarbonate, and ClearArmour(R) Prismatic Polycarbonate glazing options.
A-1 Daylighting, LLC
299 S. Main, Suite 1300
Salt Lake City, UT 84111
801-535-4345 — office
801-745-2307 — fax