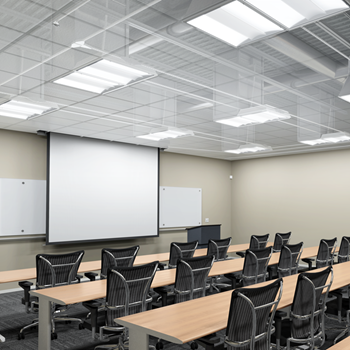 SLF
LightFlex™ Square Skylight System
LightFlex™ Square Skylight System is designed for suspended ceiling applications with minimal plenum obstructions where larger unit sizes are advantageous.
Certain airborne contaminants can diminish the integrity of acrylic. Refer to Acrylic Environmental Compatibility tables for suitable uses.
KEY FEATURES
Available in 2′ x 4′ and 4′ x 4′ sizes
Larger Sizes Enable Less Roof Penetrations
Straight, 98% Reflective MIRO-SILVER~174; Interior Light Well with Greater than 99% Specular Quality
Acuity Brands Luminaire Diffuser Options to Complement your Lighting Design
Light Control Louver options available for complete daylight control capabilities.
A-1 Daylighting, LLC
299 S. Main, Suite 1300
Salt Lake City, UT 84111
801-535-4345 — office
801-745-2307 — fax